WHAT TO DO
Very Merry Christmas in Seoul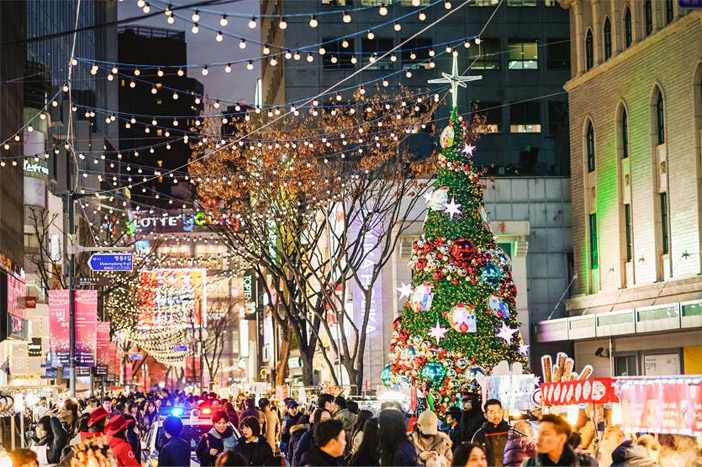 Myeong-dong at Christmas time
Christmas time is upon us! Celebrated throughout the world in a multitude of ways, Christmas in Korea is as lively and bright as the carols that pour out of shop speakers and the lights that decorate the avenues! If you find yourself visiting Seoul during this festive period, you can be sure to find plenty of fun in the areas of Hongdae and Myeong-dong!
---
Hongdae area: Buy Value, Live Together Christmas Market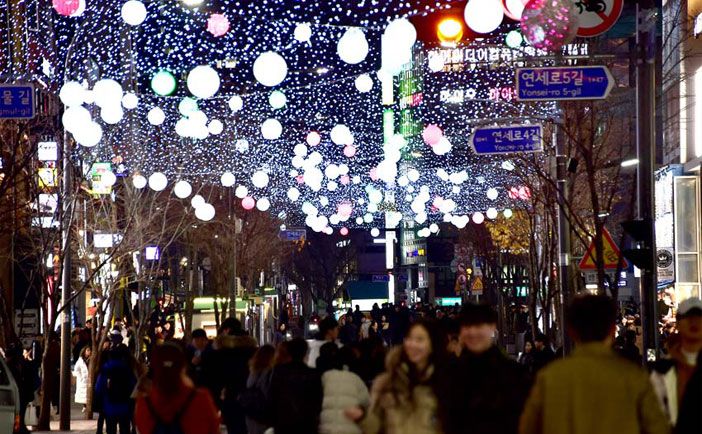 Buy Value, Live Together Christmas Market (Credit: Seodaemun-gu District Office)

The Buy Value, Live Together Christmas Market will be held from December 21 to 29, stretching from Sinchon Station to Yonsei University. The entire street and many of the shops will be decked out for Christmas! The market features booths operated by small businesses selling all sorts of items, as well as warm and tasty treats! Simply browse or pick up a few last-minute gifts if you're behind on your shopping. The festival grounds are decorated in beautiful lights If you're looking for a more active experience, keep your eyes peeled for the Santa gathering and celebratory performances by K-pop idols, including Mamamoo and Jeon Ji-yoon!
☞ Period: December 21-29, 2019
☞ Event hours: 15:00-21:00
* Opening ceremony: December 21, 19:00-19:30
* Celebratory performances: December 22-29, 18:00-19:00
☞ Venue: Area of Yonsei-ro, Seodaemun-gu, Seoul (서울특별시 서대문구 창천동 연세로)
☞ Directions: Walk for approx. 5 min from Sinchon Station (Seoul Subway Line 2), Exit 2
☞ Admission: Free
☞ Main programs: Celebratory performances, Santa Gathering, Market, etc.
☞ Website: 2019christmasmarket.com (Korean only)

---



Myeong-dong area: Myeongdong Cathedral
Myeongdong Cathedral (Bottom credit: Myeongdong Cathedral)

Christ is the reason for the season, so it's only fitting that the grandest Christmas celebration would be at a cathedral - Myeongdong Cathedral to be exact. Located within the bustling Myeong-dong area, the cathedral attracts both believers and non- alike all year round. Each year a reenactment of the nativity scene is performed, commemorating the coming of Christ as a babe in a lowly manger. The event service takes place each year on Christmas Eve for one hour starting from 22:30, followed by the midnight mass. Both events are open to the public but as they are religious services, visitors are reminded to remain respectful throughout the ceremony.
☞ Address: 74, Myeongdong-gil, Jung-gu, Seoul (서울특별시 중구 명동길 74)
☞ Directions: Walk for approx. 10 min from Myeong-dong Station (Seoul Subway Line 4), Exits 5 & 8
☞ Operating hours: 06:00-21:00
☞ Main programs (December 24, 2019)
- Nativity scene reenactment: 22:30-23:30
- Midnight mass: 24:00~
* Program schedule subject to change
* Seating for midnight mass available from 21:00
☞ Website: www.mdsd.or.kr (Korean, English)

---



Myeong-dong area: Street tour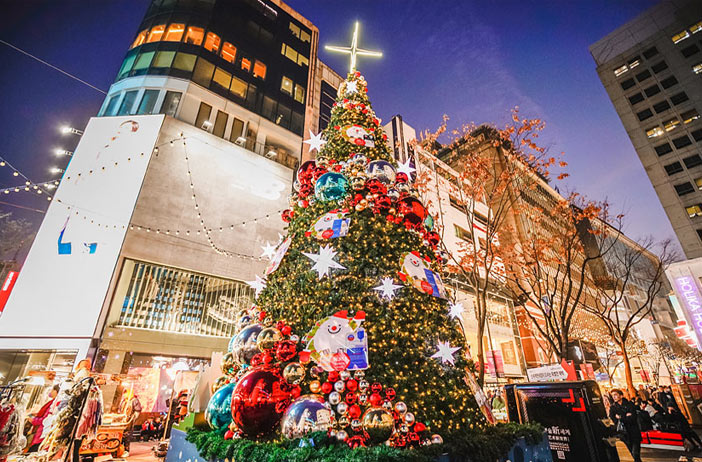 Scenes along the streets of Myeong-dong

If religious services aren't something you are interested in, you can enjoy the Christmas ambiance by taking in the outstanding lighting displays of various shops in and around Myeong-dong. From Myeongdong Cathedral, follow the overhead lighting display to reach Myeongdong Theater, where you will find a gigantic Christmas tree. Be sure to snap a picture or two with the tree! From here, the real fun begins! The stretch of road between Lotte Department Store – Main Branch and Shinsegae Department Store – Main Branch is a prime Christmas light viewing spot. The many lights will make night feel as bright as day, providing the perfect lighting for cute holiday photos!
☞ Address: 81, Namdaemun-ro, Jung-gu, Seoul (서울특별시 중구 남대문로 81)
☞ Directions: Walk approx. 1 min from Euljiro 1(il)-ga Station (Seoul Subway Line 2), Exit 7
☞ Operating hours: Monday-Thursday 10:30-20:00 / Friday-Sunday & public holidays 10:30-20:30
☞ Inquiries: +82-2-2118-6500 (Korean, English, Japanese, Chinese)
* Availability of foreign language support may vary according to staff schedule
☞ Website: store.lotteshopping.com (Korean, English, Japanese, Chinese)

---



Christmas cakes
Christmas cakes (Credit: Tous Les Jours)
For Koreans, Christmas trees and lights at home are inconsequential. The only thing necessary to make it feel like Christmas is a cake! All bakeries throughout the nation do their best to out-do each other in making the most creative cake each year. Unfortunately, this competition can also drive the costs up. For tourists looking to join in on this modern tradition, we recommend purchasing a cake from one of the popular bakery franchises such as Paris Baguette or Tous Les Jours.

This year's cakes from Paris Baguette are all designed with the concept of creating a special Christmas, such as the cake of Santa delivering gifts to a chocolate house, or the simple White Christmas & You cake. The options from Tous Les Jours include the Shining Red cake with a Rudolf nose, and Snowman's Let's Go Party cake, shaped just like a snowman!
Paris Baguette

☞ Sales period: From November 2019 until sold out
☞ Signature Christmas cakes: Santa Enters the Choco House 27,000 won / White Christmas with You 25,000 won / Starlit Christmas Night 22,000 won
☞ Website: www.paris.co.kr (Korean only)
Tous Les Jours

☞ Sales period: From November 2019 until sold out
☞ Signature Christmas cakes: Shining Red 30,000 won / Snowman's Let's Go Party 26,000 won / Santa is Everywhere 30,000 won
☞ Website: www.tlj.co.kr (Korean only)


More Info

☞ 1330 Korea Travel Hotline: +82-2-1330 (Korean, English, Japanese, Chinese, Russian, Vietnamese, Thai, Malay)